Howdy!
Welcome to the Famous Old Time Music Company web site.
We hope you enjoy your virtual visit.
Established in 1972, Famous Old Time Music Company has a long and colorful history. Known over the years as the home for all things bluegrass, we have offered new and vintage instruments, lessons, repairs, jams and entertainment in both the Cincinnati and Wapakoneta areas. The current economic climate, however, just won't support a bricks and mortar specialty shop. While new and used instruments are still available by appointment, we have restructured Famous Old Time Music Company to emphasize services such as lessons and repairs.  Famous Old Time Music Company is also still home to Cincinnati's own CAMMY award winning Vernon McIntyre's Appalachian Grass.  Details about these endeavors follow.
LESSONS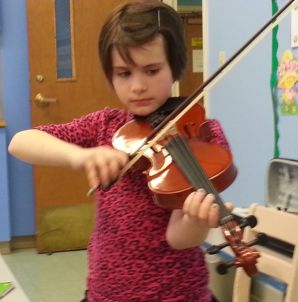 Though the two original store locations have closed, Famous Old Time Music Company can still supply all your bluegrass needs. Master bluegrass musician, Vernon McIntyre, offers Scruggs style banjo and bluegrass rhythm guitar lessons at his new Oxford, OH studio. Kitty McIntyre, Vernon's wife and longtime fiddler with the Appalachian Grass Band, offers fiddle, mandolin, acoustic guitar, and upright bass lessons at both the new Oxford location and the established Cincinnati studio.
REPAIRS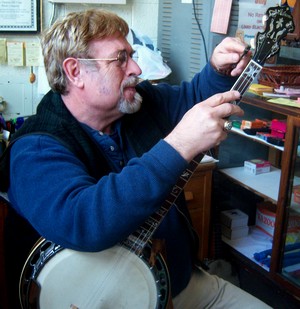 Vernon can also help if your instrument needs repair work. He can re-glue your fiddle, adjust your banjo, restring your guitar, or do most any kind of repair you might need.
SALES by APPOINTMENT
Operating by appointment only, Vernon sells instruments, CheataKeys for banjos, accessories, tee shirts, and CDs.  For an appointment or for more details, just call Kitty at 513-607-1874 or Vernon at 419-568-1220 or email us.
from left to right
VERNON McINTYRE
Susan Shook
Tammy Powers
Robert Campbell
Kitty McIntyre
Famous Old Time Music Company is home base for Vernon McIntyre's Appalachian Grass, a hard-driving bluegrass group with a long and colorful history. Leader Vernon McIntyre began his professional career as a banjo picker in the early 1960's. Having played both banjo and guitar on the Grand Ole Opry Stage and with all of the seminal bluegrass artists, Vernon met his future wife, Kitty, in the early 1980s. Kitty had played in the school orchestra throughout high school and was completely unaware of the non-classical world of bluegrass music. When her brother, Andy, introduced her to the bluegrass sound via Vernon McIntyre 's Appalachian Grass, she fell in love with both the music and the leader of the band, Vernon. Robert Campbell started banjo lessons at age 15 at the Cincinnati Famous Old Time Music with Vernon as his teacher. Tammy Powers played electric bass and was a fiddle student of Kitty's at Famous Old Time Music Cincinnati prior to being recruited as an upright bass player with Appalachian Grass.  A relative new-comer to the Appalachian Grass, Susan Shook came from a background of classical piano.  She fell in love with the bluegrass sound several years ago and the rest is history.
Click one of the following words to go directly to the page you want to see:
Band Bio         Band Video         Performance Schedule         'Like Us' on Facebook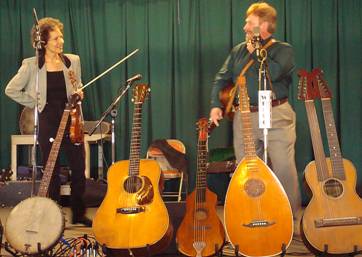 Vernon has a lifelong dedication to collecting musical instruments, antiques, and all types of unique oddities. The Strolling through the Bluegrass program was initially designed to promote interest in acoustic music among school children. Turns out, however, adults also like to hear the music, learn about the instruments, find out how Bluegrass got named, and listen with pleasure to Vernon's various stories about life on the bluegrass road. Strolling through the Bluegrass provides an opportunity to see, hear, and actually try-out various instruments. Vernon and Kitty have taken this program on the road to various schools, libraries, retirement villages, and festivals.  Kids of all ages enjoy the program.