The History of The Famous Old Time Music Company
Famous Old Time Music Company was established in Cincinnati, OH in 1972 by Harry Sparks and Mack Smith. These two college boys had been caught up in the surge of interest in bluegrass and folk music brought on by the catchy sounds of the theme music from the TV show 'The Beverly Hillbillies' and the two hit movies 'Deliverance' and 'Bonnie and Clyde'. Initially the store was housed in a long, narrow building which had been a Graeter's Ice Cream Shop. The store had a limited selection of merchandise and a small repair facility, but a booming interest in jamming and playing bluegrass music. Ownership of the store transferred to bluegrass bassist Rich Hart in the late 1970s. Famous Old Time Music ended this era of its development with dealership privileges from Martin Guitar Company, Gibson Company, Gold Star Banjo Company, and assorted string, book, and accessory suppliers. There was also a very active local Cincinnati following who traded at the store and came regularly to enjoy jam sessions and socializing with picking pals.
In 1984, Rich decided to change careers and advertised Famous Old Time Music Company for sale. Cincinnati's own bluegrass legend, Vernon McIntyre, saw this as the fulfillment of a longtime dream. Having been active as a consultant during the start up phase of the store and having traded and jammed at the store throughout its history, Vernon was intimately familiar with the merchandise, musicians, and fans of the music. His reputation as a professional musician and teacher prepared him well for the role of leader of this enterprise.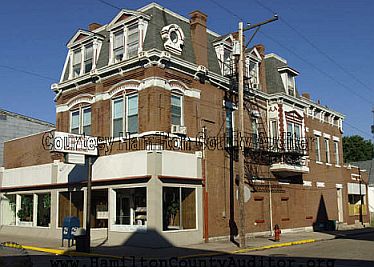 Vernon, his wife to be, Kitty, and her brother Andy Schaeffer became partners in the store in 1984. The Famous Old Time Music Company grew into a profitable enterprise catering to local bluegrass and folk musicians.
Another of Vernon's longtime dreams was to have his own concert hall and festival site. In 2001, Vernon and Kitty purchased a 20,000 square foot show/retail facility in Wapakoneta, Ohio. In addition to housing his retail business in the facility, Vernon also made good use of the concert hall and onsite restaurant. Called Boatwhistle Memorial Hall in honor of Vernon's father, the hall could seat 500 people. Vernon hosted many live events: he had weekly jam sessions and weekly Bluegrass Café concerts; Bluegrass in the Cornfield and Appalachian Opry concerts were monthly events and became well known in the area; the annual Festival in the Cornfields was enjoyed by many. Other promoters also hosted events at the facility; Dulcimers in the Cornfields was an annual indoor festival; a local theatre group staged 'Lost Highway, the Hank Williams Story'; there was even an Elvis Impersonator show!
The advent of the internet with its low instrument and accessory prices, the rising fuelcosts of the early 2000s, and the overwhelming expense of maintaining the aging building put an end to this era in the saga of Famous Old Time Music. Vernon and Kitty sold the Wapakoneta property and
moved back to their home turf in Cincinnati. For several years, they concentrated on performances with Appalachian Grass, teaching lessons, and doing instrument repair. However, Vernon's drive to Buy, Sell, and Trade has finally reasserted itself and he has re-opening a retail front for Famous Old Time Music!
Stop by and visit the new store at 1196 Ross Millville Rd in Hamilton, OH 45013.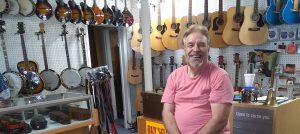 Vernon at Famous Old Time Music Company