LESSONS
Remember, Bluegrass is what we  KNOW, what we LIKE, and what we DO!
If you're interested in bluegrass style lessons, Vernon and Kitty McIntyre are the folks to call!  Having played since the early 1960's and as leader of the long established and well respected band, Appalachian Grass, Vernon knows his bluegrass music.  Kitty joined the band in the early 1980s and also has many years of experience playing and teaching.
Vernon and Kitty now offer private lessons at Vernon's newly opened branch of Famous Old Time Music, 1196 Ross Millville Rd in Hamilton, OH.  Call 419-568-1220 for details and to schedule an appointment.
Kitty also offers lessons at several other locations.  The Finneytown studio is convenient for Cincinnati students.  Monday evening, Kitty teaches at Hamilton's Fitton Center for the Arts.  Call 513-607-1874 or email to schedule an appointment at your preferred location.
INSTRUCTORS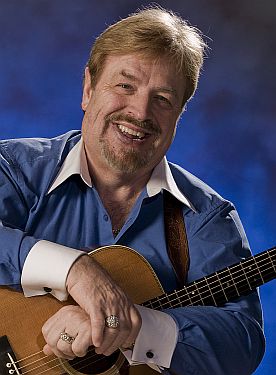 Vernon McIntyre has played professionally since 1960. He teaches banjo, guitar, mandolin, and even some bass at Famous Old Time Music Company. Vernon is well respected on the festival circuit for his driving guitar rhythm with his band, Appalachian Grass. He knows the lead-in runs that need to be there and can put them in with the best of them. Although he has not performed publicly on banjo for many years, the reputation he built during his banjo career still speaks for itself. A little known fact about Vernon is that his first instrument was actually mandolin and he played mandolin for James Monroe's band. Vernon knows the Bill Monroe/Paul Williams style inside out. He also has the teaching experience to know how to slow down, break it into understandable pieces, and convey the music to his students.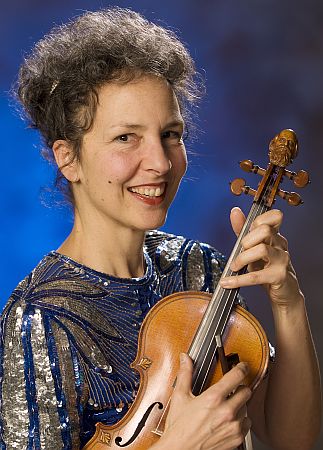 Kitty McIntyre
I started learning music fairly young with piano lessons in 2nd grade and orchestral violin in 4th grade.  While I enjoyed playing both instruments and learned a lot about music, neither really fired my imagination.  It wasn't until my brother, Andy, got interested in banjo music and introduced me to the bluegrass sound that I became captivated with fiddling and got serious about my playing.
In the early 1980s, I joined a well-known Cincinnati based bluegrass band, Vernon McIntyre's Appalachian Grass, and am still with the band today.  I have recorded several projects with the Appalachian Grass, fiddled on several projects for other artists, and have recorded two instrumental projects of my own.
Shortly after I joined the band, Vernon and I became partners in the purchase of Famous Old Time Music Company, a Cincinnati retail store catering to the bluegrass community.  We sold new, used, and vintage instruments; carried strings and accessories; provided repair services; and, of course, offered lessons.  I became the resident fiddle instructor and have been teaching ever since.
I started playing mandolin in the mid 1990's.  Initially, I was interested in the left hand exercise I could get from mandolin.  Mandolin and fiddle are tuned the same so the fingering patterns are the same.  I was spending a lot of time traveling in a car and couldn't practice my fiddle while riding around; my bow hit either the roof or Vernon's ear!  Mandolin allowed me to work on my left hand technique even in the car.  I have to say, however, that pick drove me crazy!
Being first and foremost a fiddler, I took a lot of the old fiddle tunes, worked them up as mandolin instrumentals, and now use them in my teaching.  I have played mandolin at a number of shows with other bands and did both the fiddle and the mandolin work on my CD 'The Cat Came Back'.
My brother, Andy, played bass with the Appalachian Grass for years.  I learned bass in part from him, in part from Vernon, and in part from applying my general musical knowledge to the bass.  I played bass on two of the Appalachian Grass recording projects and have played several shows with other local bands.  Bass is a lot of fun to play but is very physical so you better be in shape to do it!
When I joined the Appalachian Grass, Vernon's flawless rhythm playing caught my fancy and he taught me some of his signature licks.  Again, I returned to my repertoire of fiddle tunes, worked them up as flat-picked instrumentals, and now use them as instructional material with my guitar students.
I have taught beginning Scruggs style banjo since about 2007.   Vernon is really the master banjoist of the family but has taught me a number of tunes I use in teaching beginning banjo.  My banjo instruction emphasizes understanding the finger rolls and learning how they work together in a song.
I use a combination of ear training, musical notation, and tablature to teach any tune.  I provide each student with a series of recorded practice files ranging in tempo from dead slow to stage ready.  Playing with these files helps students learn the material and prepares them to easily join in a group setting.
I also incorporate discussion of notes, keys, and chords into all my teaching.  I think a working knowledge of rudimentary music theory helps in learning a tune, in remembering the tune, and in performance of the tune in a band setting.  For an idea of how I present this discussion, you can peruse my Seat-of-the-Pants Music Theory articles published on this site's Bi-Monthly Bluegrass Blog published between September of 2017 and March of 2018.
U of K



OK, this will let you know how I spend my time…  at the last Chick Band rehearsal, Janice (one of the fiddle players) suggested that all my students are attending UK, University of Kitty.

Well, I thought that was a hoot so I mentioned it to another
student, Susan, who designed a logo for me.   Notice the
little curly hairdo on the 'U' and the fiddle bow in the
middle.  I only hope the real UK doesn't mind!
Kitty has a fine group of KIDZ learning to play bluegrass on bluegrass instruments.
Join us for some of their experiences.
| | |
| --- | --- |
| Meet two of Kitty's students, Eddie, a budding guitarist, and Chelsea, a budding fiddler.     | Eleanor fiddling |
Kitty's KIDZ join Vernon McIntyre's APPALACHIAN GRASS Grande Finale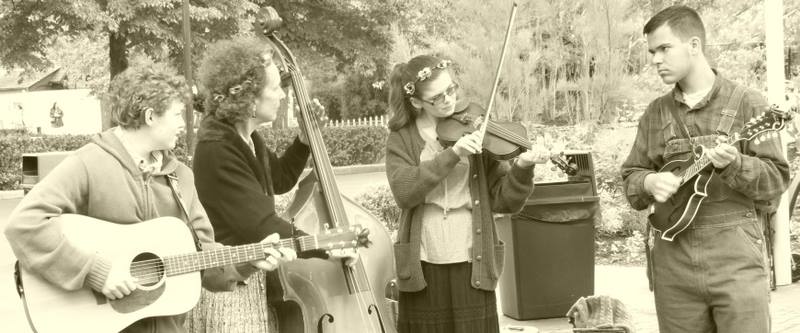 More photos of Kitty McIntyre and her students at 2013 Appalachian Festival