REPAIRS
Vernon has his workshop set up and ready to do all kinds of instrument repair.
Do you need your banjo adjusted so it plays just right and sounds great?  Do you need your guitar restrung and tuned up?  Does your fiddle have a crack to be glued?  Have you broken the headstock on your mandolin?
Vernon can solve any and all of these problems for you.  Call him at 419-568-1220 and schedule an appointment.
Banjos are Vernon's specialty; he is a master of all aspects of the instrument.  If your banjo needs to be set up or isn't sounding just right, Vernon is the man to fix the problem.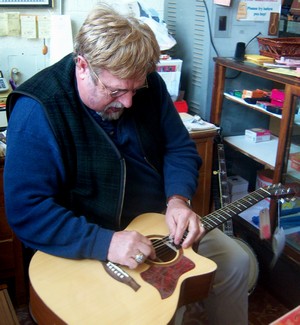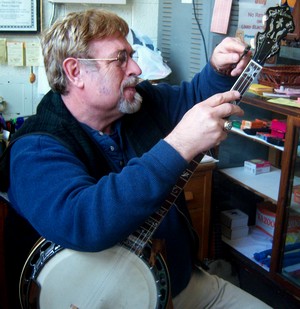 If you have a tenor and want to convert to a five-string or for that matter vice-versa, he can do it. He can convert a banjo uke into a small five string for a kid.  He can swap out the tone ring or install the capo nails banjo players need for the 5th string.
Weather can drastically affect a wooden instrument.  Winter's cold, dry air can cause cracks; when small, repair of these cracks is a relatively simple matter.  Oftentimes, simply injecting glue into the crack and clamping overnight will solve the problem.  If left unattended, however, they can grow into difficult repair problems.  In the worst case, a crack can cause the braces inside the instrument to come unglued; the whole structure of the instrument is then impaired.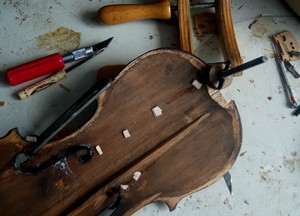 As glue ages it becomes dry and brittle. Old fiddles often need to be re-glued before they are playable, especially if they have been stored in an attic. A fiddle was once brought into the shop in splinters. The pieces were in a cake box that still had frosting in it! Vernon glued on that thing for weeks. A mouse had made a nest at one time inside the instrument and had gnawed the 'f' holes until they were 'o' holes. When the instrument was finally re-assembled and strung up, it was dismally ugly.  When I drew a bow across it, though, it was one of the best sounding bluegrass fiddles I ever heard.