Tammy Powers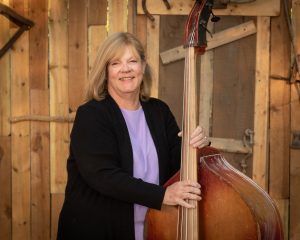 Tammy Powers was born in Hamilton, Ohio, grew up in Fairfield, Ohio and resides there today. She went to her first bluegrass festival in 1996 and has been hooked ever since. Having some musical background she learned how to play electric bass and then moved on to an upright.
For the last few years she has played with many local musicians mainly just for the shear joy of playing. She joined the Appalachian Grass playing bass in February of 2003 and has been there ever since.
Tammy also has a masters in Art Education and recently retired from the Lakota Local School District.