The first Chinese Breakdown dinner was a celebration of Vernon and Kitty's two favorite things: playing bluegrass music with Vernon McIntyre's Appalachian Grass and eating Chinese food. Named after a silly, old time song, the Chinese Breakdown was initially hosted by Famous Old Time Music Company at its Vine Street location in Elmwood Place. Catered by the Royal Mandarin, Vernon's then favorite Chinese restaurant, the menu was limited to Lo Mein, eggrolls, and cheese doods. To Vernon and Kitty's surprise, the event was a huge success with a sell-out crowd and became a popular annual event at Famous Old Time Music Company.
When the Elmwood Famous Old Time Music Company closed in 2006, however, there was no longer a venue to host the dinner so Vernon and Kitty had to stop promoting the event. In 2015, when they happened on the large, private party room available at the China Garden Buffet, they knew they had found a new home for the Chinese Breakdown dinner and reestablished the annual event.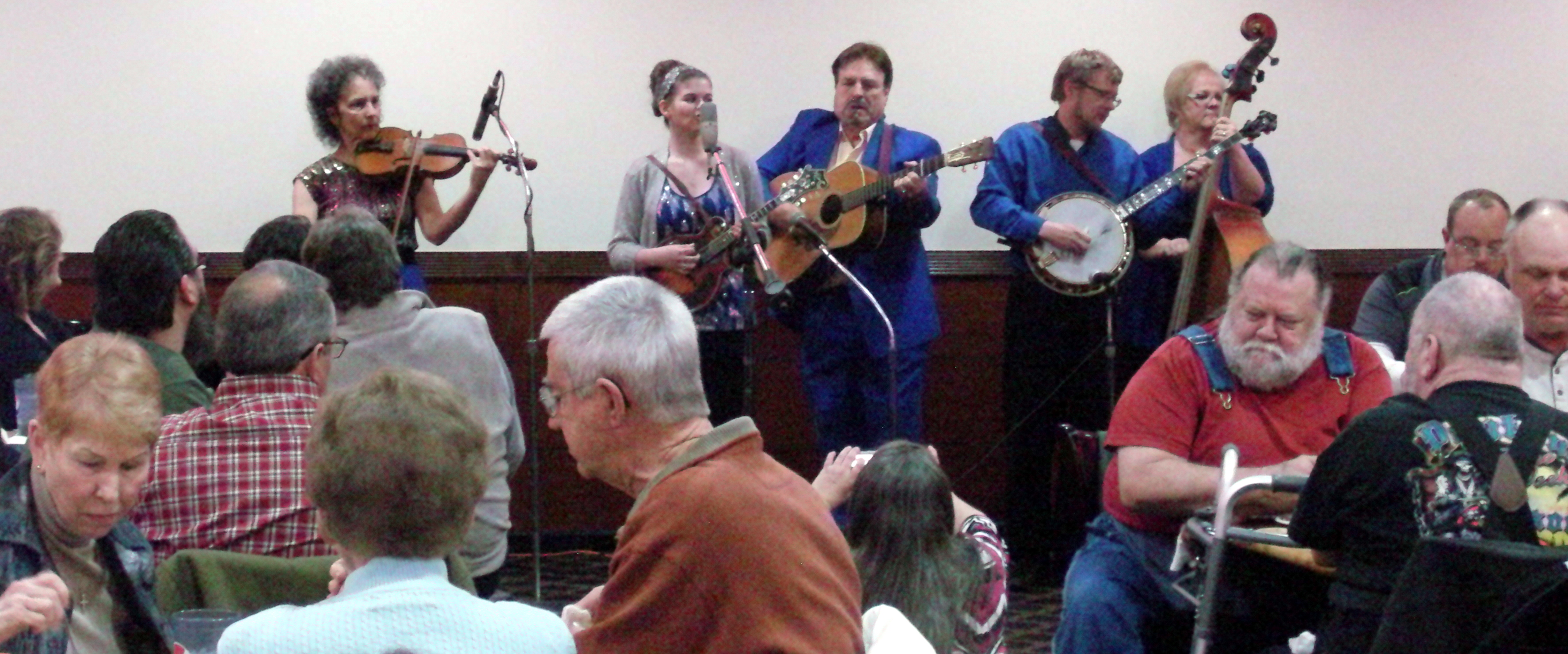 Attendees at the Chinese Breakdown dinner will enjoy the wide selection of menu items offered by the China Garden Buffet. In addition to the usual favorites of Lo Mein, General Tso's Chicken, and Stir Fried Rice, the China Garden All You Can Eat Buffet features crab legs, Hibachi Grill, Sushi bar, and a desserts bar. Refillable soft drink is included in the admission price. Beer and wine are not included in the price but are available for purchase.
Diners will be entertained during and after dinner by Vernon McIntyre's Appalachian Grass with several guest spots by Jenny Lee. The Appalachian Grass is a well-known and well-respected bluegrass band with deep roots in the Cincinnati area. Their eclectic repertoire is delivered in a traditional, hard-driving bluegrass style featuring smooth harmonies, exciting banjo picking, and soulful fiddling. Guest artist Jenny Lee is a charismatic bluegrass singer with an energetic stage presence.
Make plans to join us for the 2018 Chinese Breakdown dinner on April 14 at the China Garden Buffet, 1108 W. Kemper Rd., Cincinnati, OH 45240. Doors open at 6pm and showtime is 7pm. Tickets are $25 per person and are available by calling or emailing Kitty at either 513-607-1874 or fotmc@iglou.com. Tickets go fast so don't delay!